I recently 'completed' this on my '01 E39 530i and overall things are working OK. However, I have a couple of small issues however that may be wiring related. I'm sure there is at least one E39 owner on the forum that has done this, so hopefully someone can chime in with some info. I purchased the MID retrofit harness direct from BMW (65129405409).
The issues are:
1) With my all in one cassette/radio unit I had previously, I was able to turn on the radio after the car was switched off with no key in the ignition for up to 20 mins. Now with the MID, it will only turn on providing the key is in ignition position 1. I asked two other owners ('01 & '02) and they both said they were able to turn on their MID/radio with the key out. I have noticed though that with the key out and when I tap the clock button, the clock displays for a short period and then disappears.
2) Whenever I get into the car, I now hear the CD mechanism starting before I've even entered key in ignition (it sounds like it's trying to eject a CD but no CD is present). Is this normal? Sometimes the mechanism will even go twice. I was hoping it was normal but I asked another MID/CD owner and he says this doesn't happen on his car. It plays CDs perfectly so no issues there.
I took everything back out a few days ago and inspected the wires but everything looks OK so I'm at a bit of a loss. Can anyone recall doing this and inserting wires in the following positions: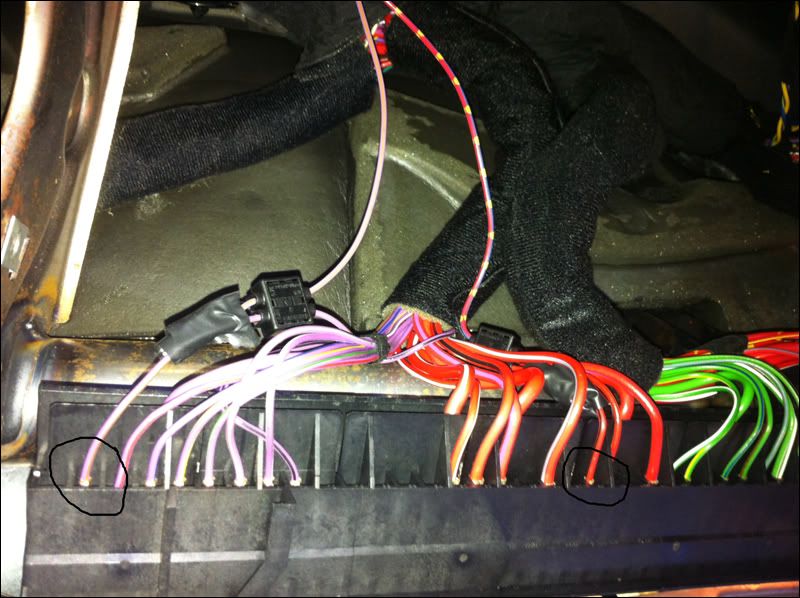 The harness has five wires; two go to the fuses #25 & #44 (in my case they've been clamped on to existing wires as they're already in use - the retrofit states to do this if this is the case) and three go to the black connector box.
Can anyone recall the three wires in the connector box going one after each other? If anyone had them in locations not beside each other then I'd know I've wired them in wrong. But I did do as the instructions said and connect them to the box that has the same colour wires in it, so I'm not sure.
Any confirmation/assistance on this would be great, and just to clarify, everything works great once the car is on but I just have a feeling something is not right and I want to sort it out.
I've attached the instructions that I used and a wiring diagram I found on another thread for reference.
Thanks
Richard